This is an archived article and the information in the article may be outdated. Please look at the time stamp on the story to see when it was last updated.
Which epoxy resin starter kits are best?
There are several mediums through which you can express your creativity. Some prefer the flowing colors and smooth lines of watercolor paintings, while others chisel away at slabs of marble or wood. But if you want to make art that should last for several centuries, then creating intricate landscapes and beautiful scenery with epoxy resin is an excellent choice.
It's a bit of a sticky medium, so it's always best to start small and gain some experience before tackling larger projects.
How epoxy resin works
There's a good chance that you've admired a stunning miniature coastline or held a delicate flower encased in clear substance in your hand. All things considered, those were probably epoxy resin, the crystal clear, super-hard material that's used to encompass the flower or create the ocean, waves and shoreline in a scale model.
But it's not as simple as just dripping it over an object. The resin comes in two parts, and a chemical reaction is needed to harden it. In one bottle is a reactive prepolymer or a polymer containing epoxide. In another bottle is the hardener, and when the two are mixed together, it creates an unbreakable bond.
Think of it as two different liquids, that, when combined and mixed well, cure and harden into a clear plastic-like material that can be polished, shaved or colored. The time it takes to solidify depends on the compounds in the mixture. Some can cure within a few minutes, while others take a bit more time.
How to make art with epoxy resin
Using epoxy resin as an art form is labor-intensive but visually striking. Normally, mixing the chemicals together will give you a clear epoxy, but pigments can be added to change the color, just like in an oil painting.
For example, if you want to create a miniature shoreline, you'd mix your chosen ocean hues into some epoxy, wait for it to harden and then pour it onto your surface. You can shape the initial layer until it hardens. Then, using a different color, such as white, you can carefully pour that over the first layer to add different shades, wave crests or sea foam.
However, if you work quickly enough, it is possible to use epoxy resin as paint. The principle of adding pigment is the same, but instead of pouring it over an object onto a surface, you apply it with a paintbrush.
There also are silicone molds in several different shapes to encase objects such as insects or flowers in epoxy resin. A popular choice is a ball or a square, as these are easier to work with afterward when needing to polish.
Best epoxy resin starter kits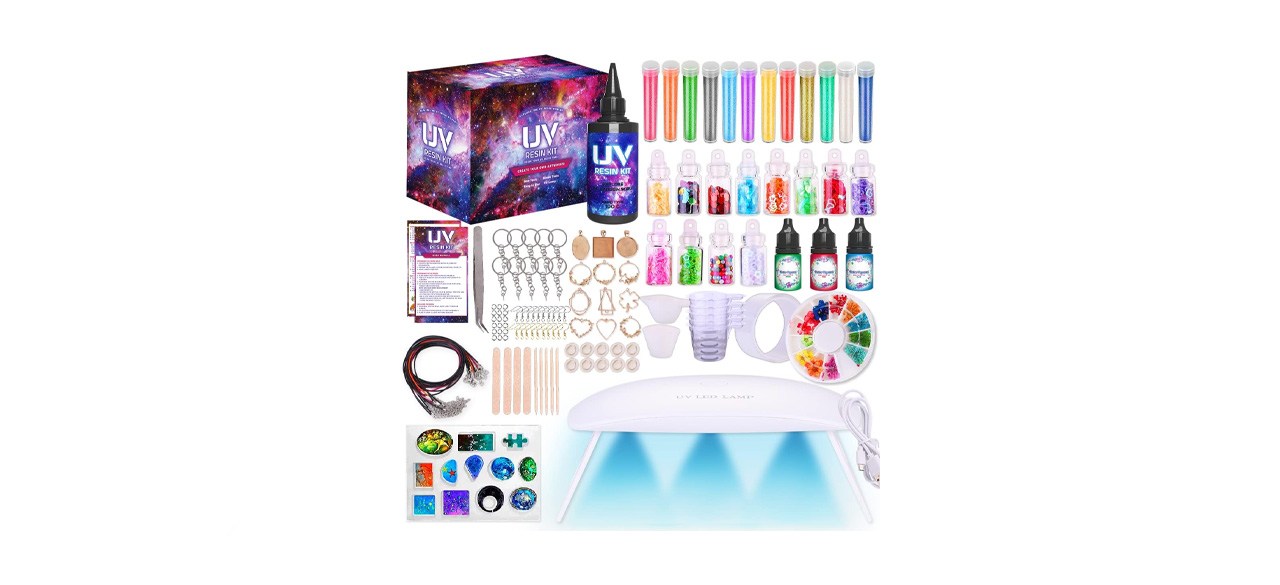 Insnug Epoxy Resin Kit for Beginners
This is excellent if you want to start making jewelry with epoxy resin. It includes detailed instructions, an ultraviolet curing light and several tools. The kit contains several color pigments, plastic, silicone cups and 14 frames with adhesive tape. To make jewelry, it comes with earring hooks, sequins, keychain rings, necklace chains and jump rings.
Sold by Amazon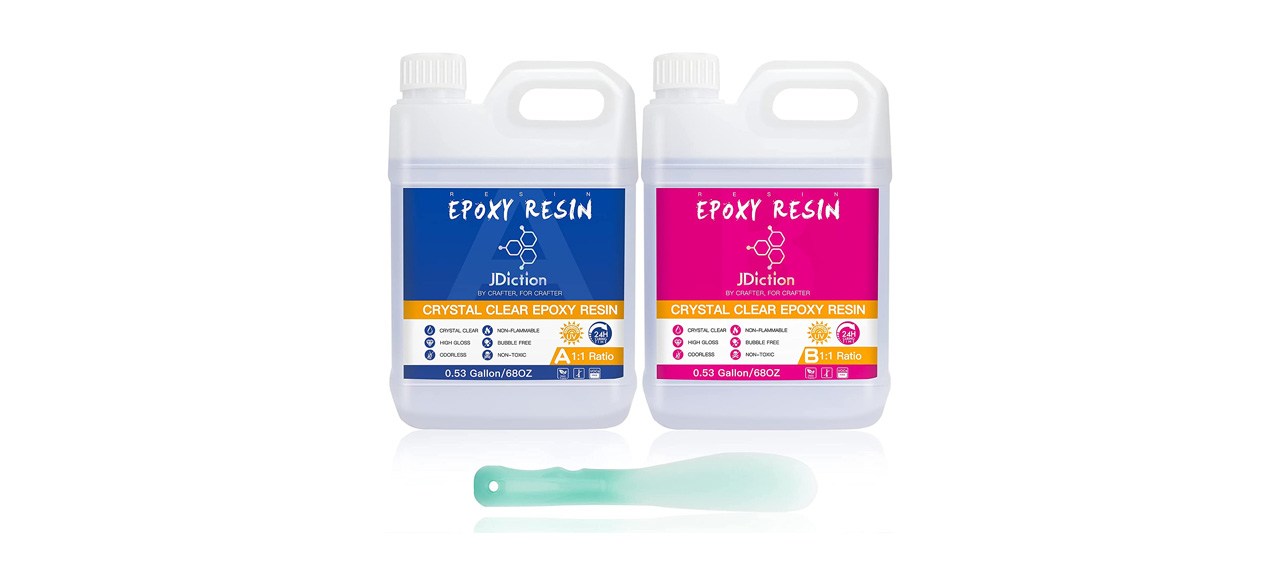 This is a great beginner's kit for making jewelry from epoxy resin. With three easy steps and about 45 minutes of work time, this kit is ideal for at-home projects. It also makes a great gift for the crafty people in your life.
Sold by Amazon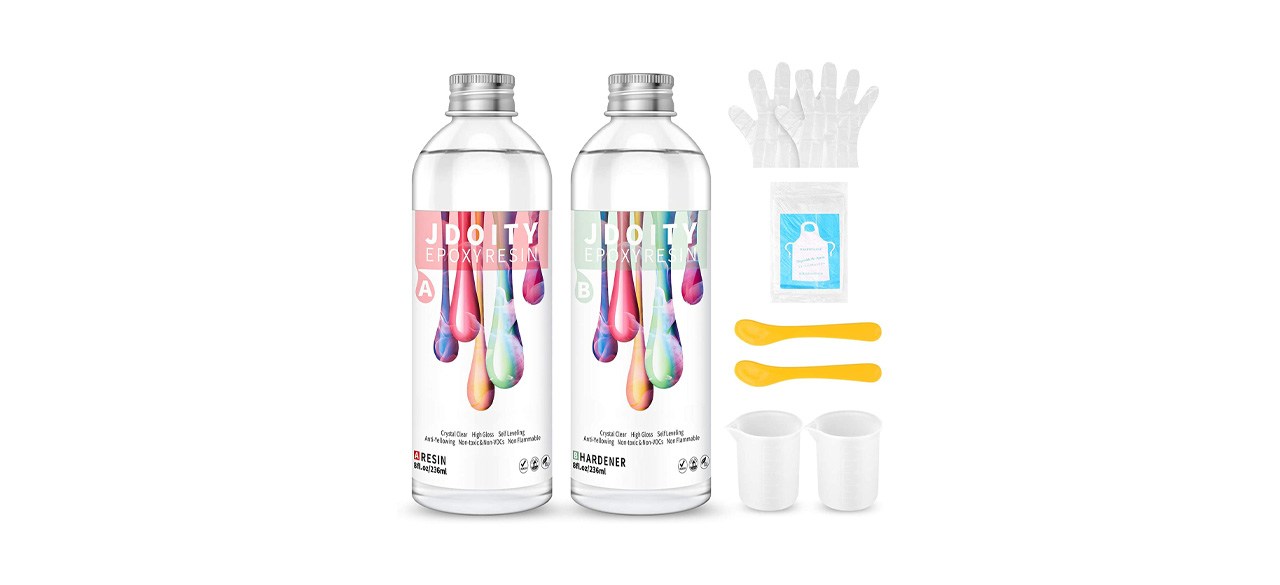 This is a complete kit with everything you'll need to get started. It includes an 8-ounce resin bottle, an 8-ounce hardener, stir sticks, gloves and more.
Sold by Amazon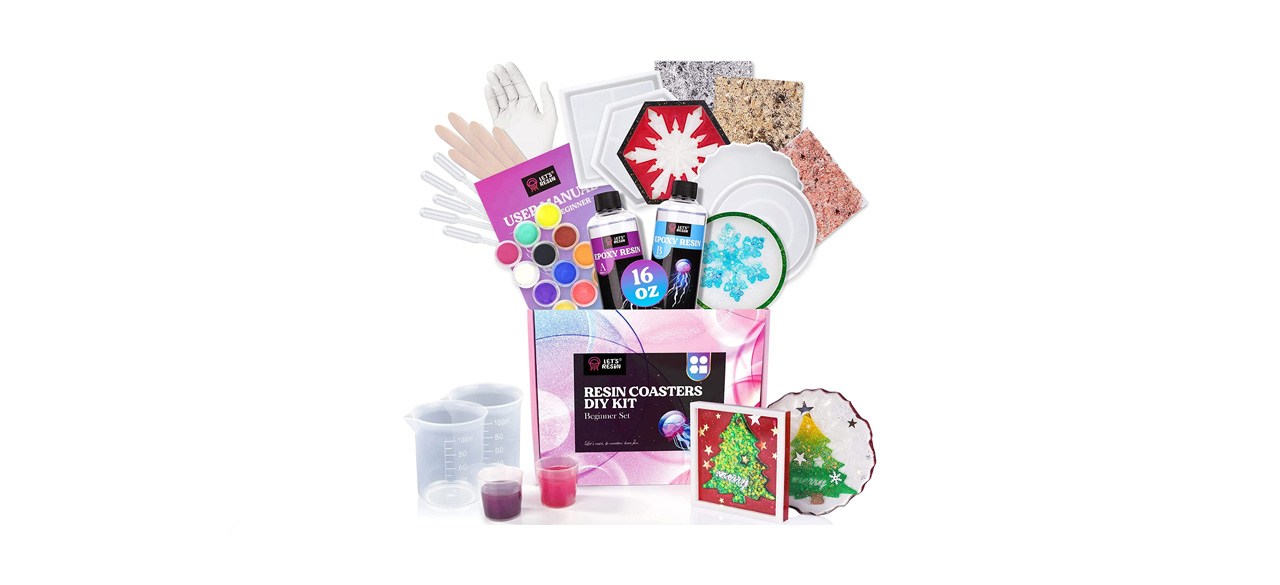 Let's Resin 16-Ounce Resin Starter Kit for Beginners
This is an excellent starting point for anybody who wants to learn about making coasters with epoxy resin. It includes 16 ounces of resin, coaster molds, mixing cups, color mica power and decorative golden flakes.
Sold by Amazon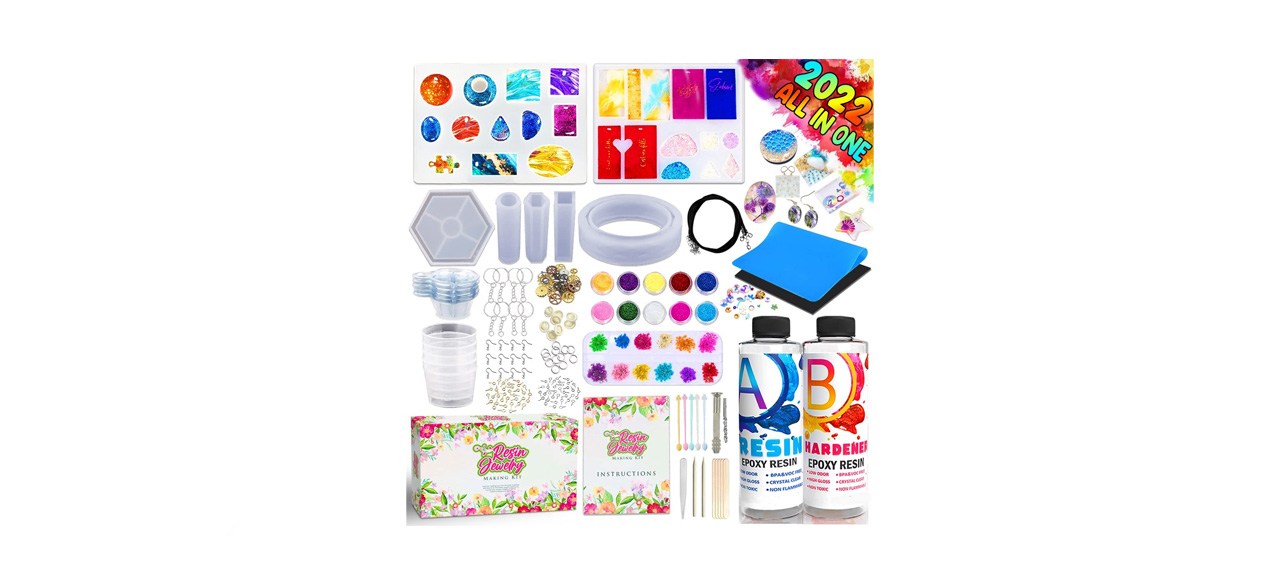 GoodyKing Resin Jewelry Making Starter Kit
This large kit includes several materials to create beautiful resin jewelry. In addition to the 16 ounces of epoxy, it comes with seven molds, 20 earring hooks, eight keychain rings and eight necklace chains. The detailed instructions walk you through the steps in mixing the epoxy properly.
Sold by Amazon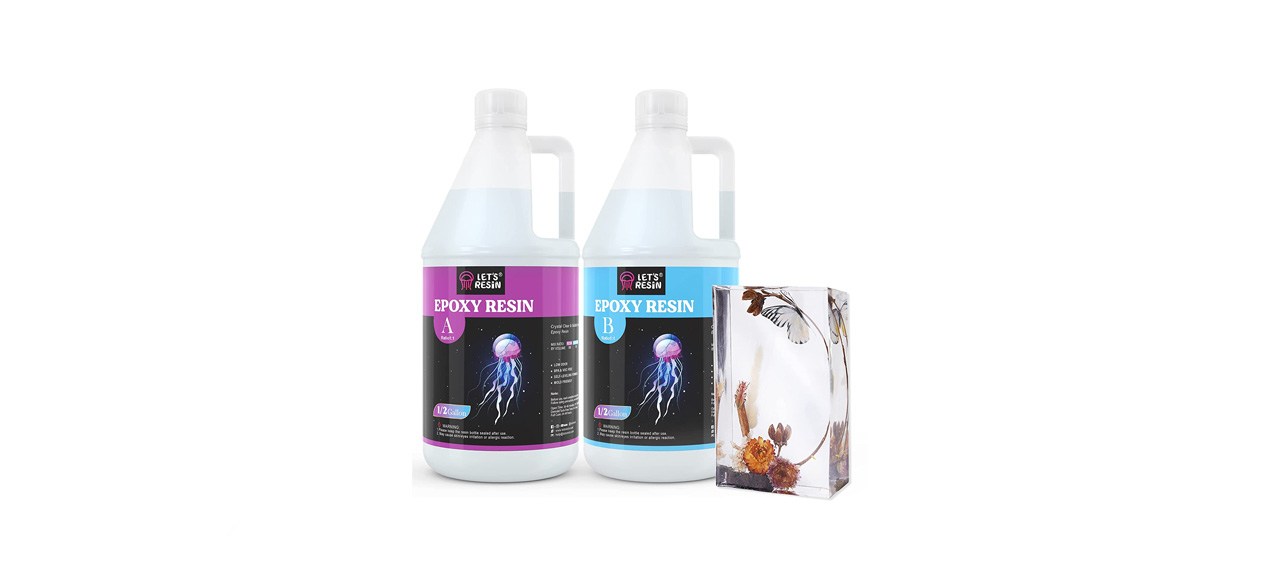 Let's Resin 1-Gallon Epoxy Resin Kit
If you need to top up your epoxy resin supplies, this is a perfect choice. The two half-gallon bottles mix together to give you a gallon's worth of working material, which takes about 45 minutes to cure. The liquid is crystal clear and bubble-free, making it easy to mix in color pigments.
Sold by Amazon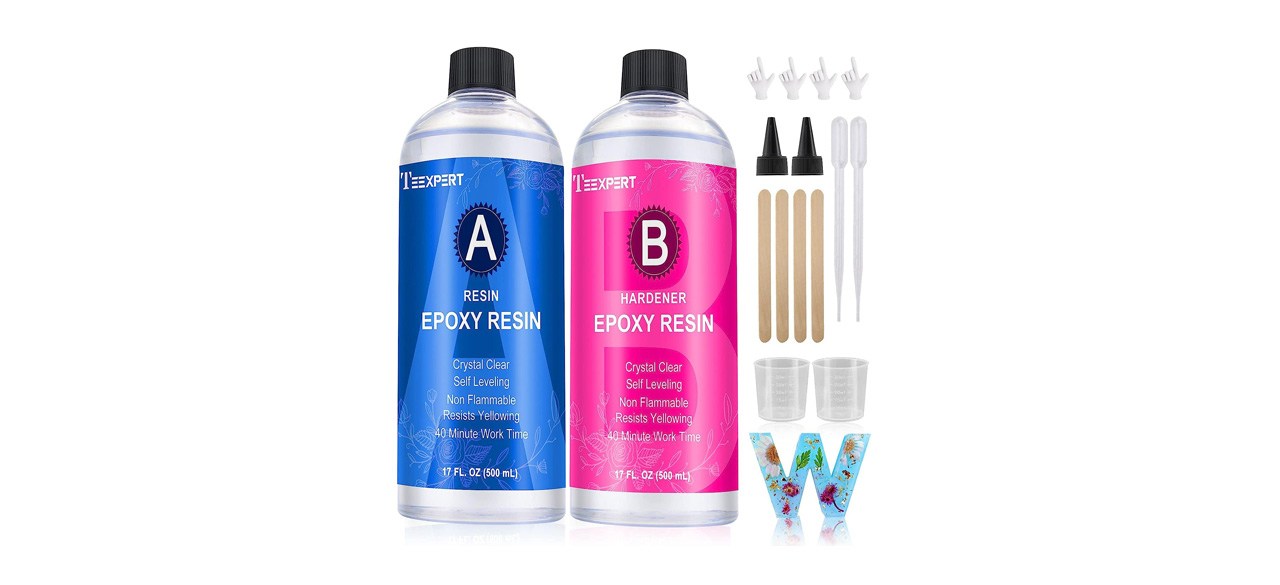 This kit includes resin, hardener, stirring sticks, mixing cups, gloves, droppers and detailed instructions. This 4+ star product boasts versatile uses and is suitable for beginners.
Sold by Amazon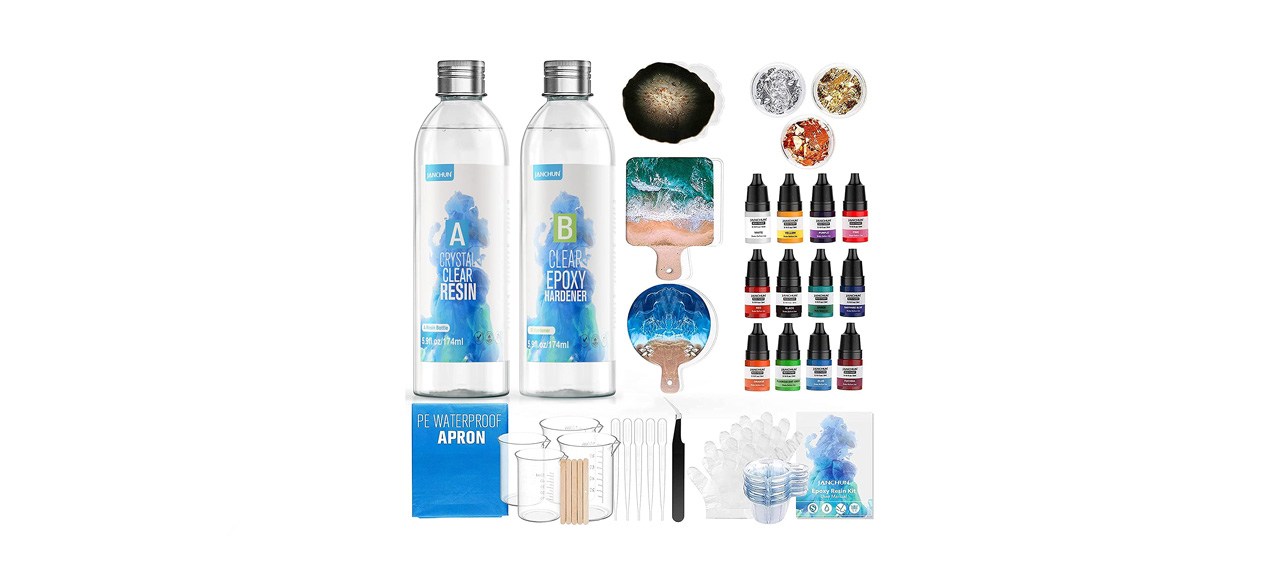 Janchun Epoxy Resin Kit With Coating and Casting Coaster Molds
This is a great kit if you want to make stunning art pieces or decorative objects. It comes with 12 color pigments, 12 ounces of resin, three coaster resin molds and four messing cups. To stay safe while using the materials, it includes a disposable apron, two pairs of disposable gloves and a pair of tweezers.
Sold by Amazon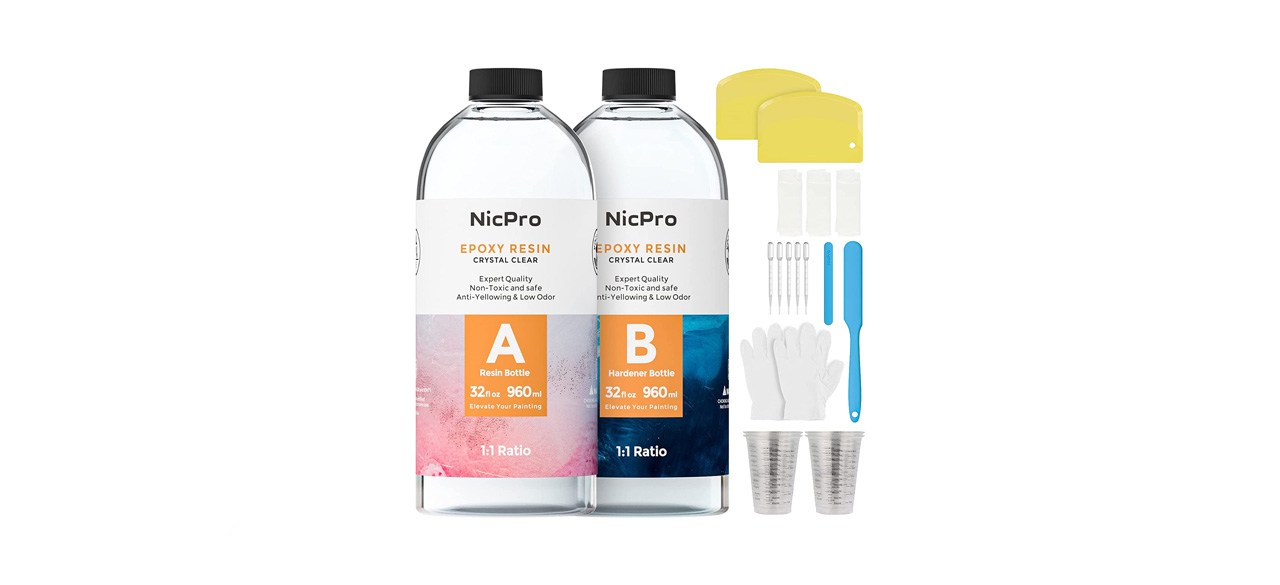 NicPro 64-Ounce Crystal Clear Epoxy Resin Kit
This kit is great if you already have most of the basic ingredients to make jewelry or coasters. It includes 64 ounces of resin, four measuring cups, two spreaders and two pipettes.
Sold by Amazon
Want to shop the best products at the best prices? Check out Daily Deals from BestReviews.
Sign up here to receive the BestReviews weekly newsletter for useful advice on new products and noteworthy deals.
Charlie Fripp writes for BestReviews. BestReviews has helped millions of consumers simplify their purchasing decisions, saving them time and money.
Copyright 2023 BestReviews, a Nexstar company. All rights reserved.