This is an archived article and the information in the article may be outdated. Please look at the time stamp on the story to see when it was last updated.
Which epoxy resin is best?
Epoxy resins are clear, viscous coatings poured onto surfaces, such as kitchen countertops and bar tops, to protect them from moisture and wear. Epoxy resins are not to be confused with epoxy glues and adhesives. Epoxy resins are a modern alternative to traditional varnishes, easier to work with and more durable.
If you're looking for a coating that has a deep glass-like appearance and is scratch- and water-resistant, take a look at the ProGlas 1000 Clear Coat Epoxy Resin System.
What to know before you buy an epoxy resin
What is epoxy?
Epoxy is a general term referring to a group of compounds that are used as adhesives, coatings and in castings.
Epoxy glues are ideal for repairing machinery, household appliances and anything requiring a strong bond. Epoxies made for metals are a handy alternative to bolting, welding and soldering. To be successful as adhesives, epoxies need to stand up to heat, water and harsh chemicals and stick to all kinds of materials and surfaces.
Epoxy resins are the liquid form of epoxy adhesives. Epoxy resin coatings are poured over surfaces as sealants that harden to become strong, durable protective coats. Epoxy resins flow at about the same rate as honey.
Casting resins are thin and runny, attributes that are a big help when you want to pour small amounts of a more liquid form into molds.
How to apply epoxy coatings
Protect yourself: Make sure you wear latex or rubber gloves to protect your hands. It's also a good idea to wear old work clothes.
Surface: Make sure your surface is clean and free of any dust, dirt and lint. The cleaner your surface, the less the risk of ruining your glassy finish with trapped particles and air bubbles.
Surrounding area: Protect what's nearby. Just as you would if you were painting, cover all nearby surfaces and items to protect them from spills and drips.
Temperature: Keep it steady. Always stay within the range recommended by the manufacturer so flow and curing won't take long.
Thickness: Apply only to the recommended maximum thickness. If you pour epoxy on too thickly, it won't cure properly.
What to look for in a quality epoxy resin
Work life and cure time
These measurements are often confused, but the difference is significant.
Work life is how long it takes an epoxy adhesive to harden and dry while you're working with it. Epoxy resins with short work lives need to be handled quickly so they don't dry too soon because you don't want your epoxy to harden before the job is finished. On the other hand, you don't want it to remain in a liquid state for any longer than it has to.
Cure time refers to how long it takes the internal chemical reactions to be completed after you've applied the epoxy. It is the amount of time it takes an epoxy resin to harden internally and reach its full strength.
How much you can expect to spend on epoxy resin
Most epoxy resins for sealing projects are sold in gallon bottles and cost $75 to $150, depending upon the chemical formulation. Resins for casting come in smaller bottles costing $1 to $2 per ounce.
Epoxy resin FAQ
Can I use epoxy resins on wood?
A. Yes, but porous surfaces such as wood and concrete require additional preparation, including laying a primer coat. As always, follow the manufacturer's instructions and heed its cautions.
What are skim coats?
A. Skim coats are thin layers that act as primers to fill in gaps and smooth the surface of what you're coating. They seal the surface and keep air bubbles from forming later. You apply skim coats with a squeegee and work the epoxy in until the surface looks wet but not glossy. You may need more than one coat and must wait several hours between applications.
Do I need to do anything special when sealing a butcher-block countertop?
A. When sealing a flat wooden surface, prime the vertical edges first. Epoxy flows at about the same rate as honey and will always be thinner on the edges where it drips off, unless you prime them first.
What's the best epoxy resin to buy?
Top epoxy resin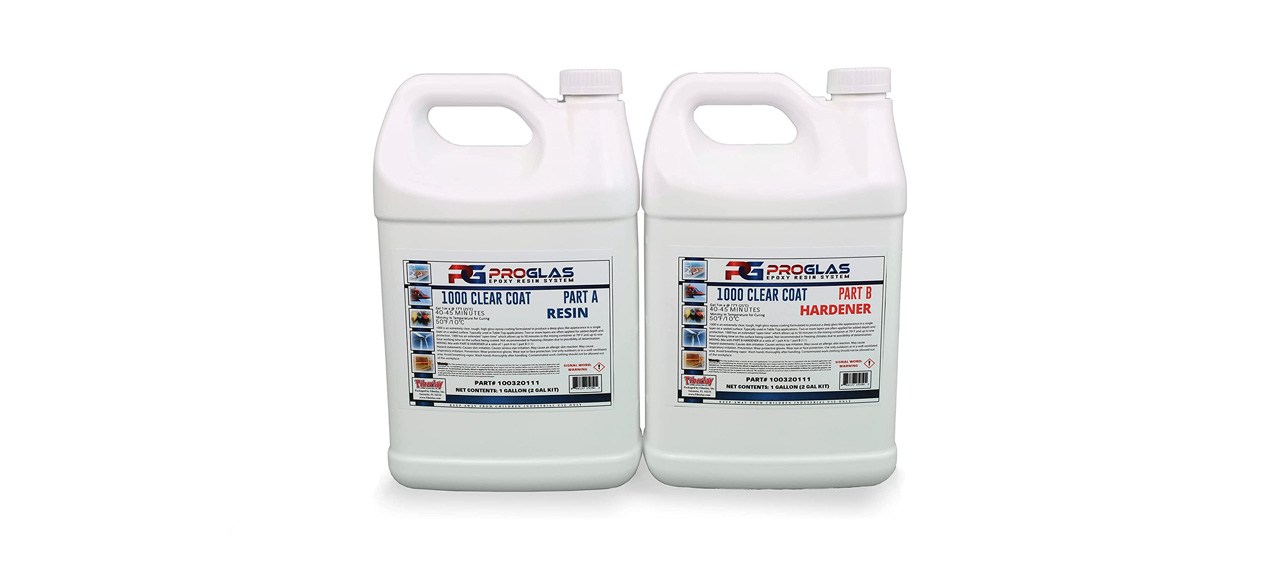 ProGlas 1000 Clear Coat Epoxy Resin System
What you need to know: Use this coating for tabletops, bar tops, countertops and any other remodeling project you have in mind.
What you'll love: The resin is self-leveling for easy application and produces a tough, clear high-gloss coating specially formulated for a deep glass appearance. It is scratch- and water-resistant, contains ultraviolet inhibitors and has a work life of 60 minutes.
What you should consider: This resin is best for smaller surface areas because it may harden too quickly for large-surface projects.
Where to buy: Sold by Amazon
Top epoxy resin for the money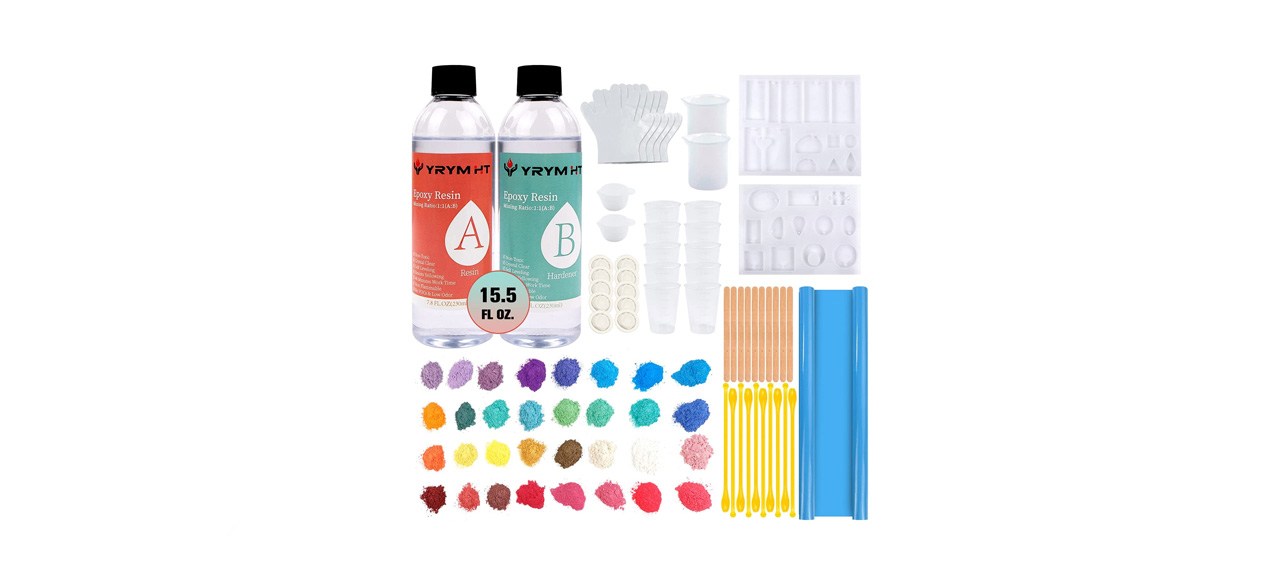 What you need to know: The 1-to-1 resin is non-toxic, self-leveling and easy for beginners to work with.
What you'll love: You get resin and hardener, mixing and measuring cups, stirrers, spoons, a silicone spatula pad and disposable gloves. You stir the mixture, add one or more of the 32 colors, pour the liquid into flexible molds, wait 24 hours and remove two dozen colorful pendants.
What you should consider: The silicone mat comes folded and is hard to get the creases out of.
Where to buy: Sold by Amazon
Worth checking out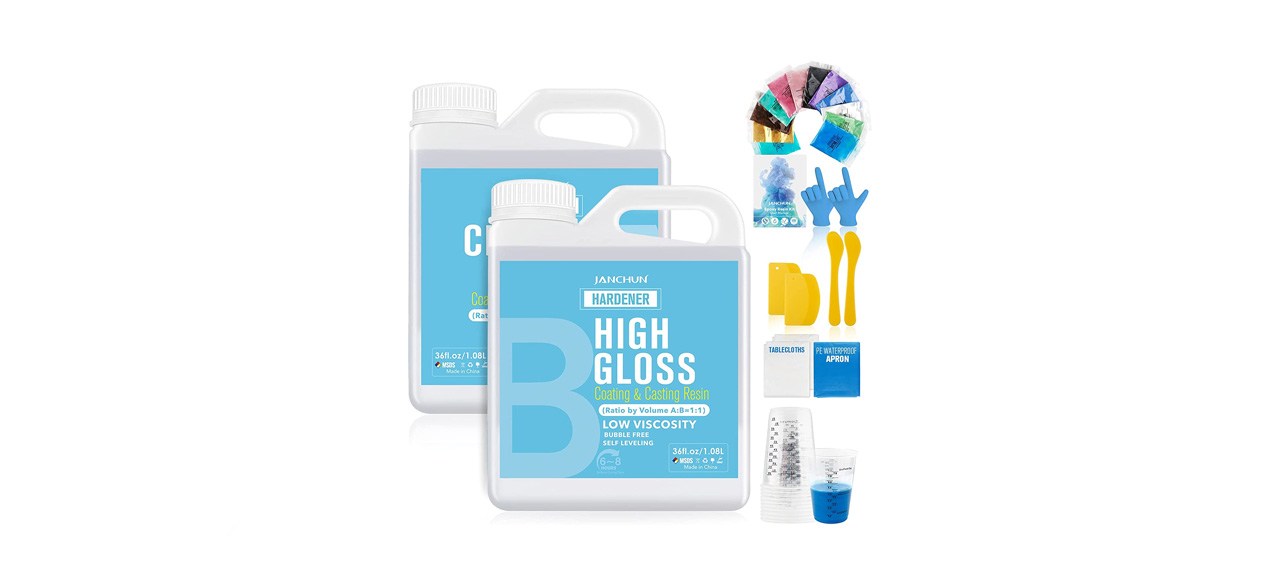 Janchun High Gloss Coating and Casting Resin
What you need to know: This low-viscosity 1-to-1 mix ratio resin is specially formulated for artists because it is non-toxic, has low odor and fumes, and resists yellowing from UV exposure.
What you'll love: It's free of bubbles, perfectly transparent and dries crystal clear or in your choice of 12 colors of mica powders. It cures as hard as a rock in eight hours. You get gloves, an apron, drop cloths, stir sticks and a spatula.
What you should consider: Measuring cups are not included.
Where to buy: Sold by Amazon
Want to shop the best products at the best prices? Check out Daily Deals from BestReviews.
Sign up here to receive the BestReviews weekly newsletter for useful advice on new products and noteworthy deals.
David Allan Van writes for BestReviews. BestReviews has helped millions of consumers simplify their purchasing decisions, saving them time and money.
Copyright 2023 BestReviews, a Nexstar company. All rights reserved.