Frank Reich will be introduced as the next coach of the Panthers the team announced Thursday.
Reich, 61, was dismissed as the coach of the Colts late in the 2022 season, but compiled a 40-33-1 record over four-plus seasons with the franchise. Despite the shocking early retirement of Andrew Luck, Reich managed to keep the Colts in some degree of relevance year in and year out with a cavalcade of veteran options at the position, including Carson Wentz and a soon-to-retire Philip Rivers. Indianapolis was 1–2 in the playoffs under Reich, with its last appearance coming in '20.
The hire marks the first salvo of a coach hiring cycle that will soon begin to bustle. The Panthers, according to one source familiar with the process, were initially enamored with Lions offensive coordinator Ben Johnson. Johnson's decision to return to the Lions caused a bit of regrouping on Carolina's part. The Panthers also entertained the idea of bringing back interim coach Steve Wilks, who admirably stabilized the franchise following the in-season dismissal of Matt Rhule.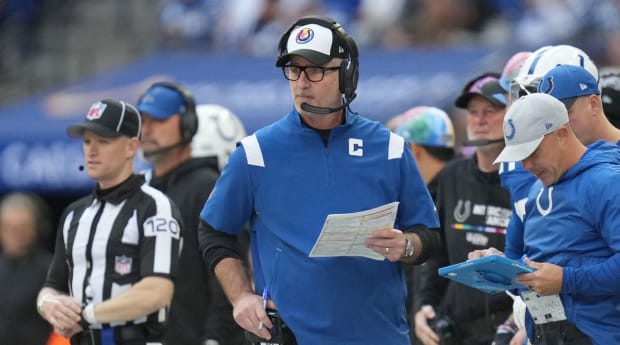 Reich will be charged with spearheading a franchise through some uncertainty. Much like his time in Indianapolis, the central theme of this process becomes whether Carolina can secure its quarterback of the future.
The Panthers currently select No. 15 in this year's draft, which, barring a trade, would put them out of the reach of a potential franchise quarterback. A group of veterans, including Derek Carr and Jimmy Garoppolo, could help buttress the Panthers offensively while they work to find a long-term solution. It is a process Reich is intimately familiar with.
Before Reich was in Indianapolis, he was a central figure in the Eagles' first Super Bowl championship. As the offensive coordinator, he was responsible for developing Carson Wentz and building an offense the former No. 2 pick could confidently operate. Reich then tailored that offense to Nick Foles, who stepped in for Wentz to win Super Bowl LII.
Reich, colleagues say, is a calming force as a coach who will bring a sheen of professionalism to a Panthers team that, with owner David Tepper's first big hire, swung for the fences with an unconventional approach. Rhule, who came to the NFL from Baylor, had his moments in Carolina, but was also criticized for unorthodox practices and was unable to parlay his recruiting skills into landing a top quarterback.
That job now belongs to Reich, who gets the chance to thumb former boss Jim Irsay in the eye after Irsay replaced Reich in-season with ESPN analyst and former Colts center Jeff Saturday. Saturday remains firmly in the mix to get the Colts' full-time job.